SuperBeacon & The Portable
E.J. Gold's SuperBeacon™ uses vintage 1900s crystal radio technology to recover and harmonize PUPs (Parallel Universe Personae *) into the present HomeWorld Universe, calm your busy brain and allow your natural spiritual, psychic and intuitive abilities to come through. Users report interesting results related to creativity, skills, prosperity, lucid dreaming, past lives recall, relationships, parallel worlds, paranormal activity, harmony, relaxation, intelligence, memory, and more.
The SuperBeacon facilitates your ability to access deep states of meditation in minutes, you are guided to connect with your parallel world personae* for integration. Amazing journeys - or use as a 3 minute stress buster.
Working with the SuperBeacon can be done on various levels and for various lengths of time.
There are many ways the SuperBeacon device can be used. Their main purpose is Parallel World Personae integration as well as training in voyaging. Your Being is meant to voyage throughout the labyrinth.
Here is an overview of the many uses of the SuperBeacon Device:
Beacon Training Level 1 (30 PUP Inductions -- Parallel Universe Persona connection and integration)
Deep Delta Dreamwalker
3-minute stress-buster -- just hold the crystal grippers
Daily meditation practice with the 10-minute CD
Daily meditation practice with the 1 hour CD
Hold the crystal grippers for relaxation as long as you like
Beacon Training Levels 2 - 11
Advanced Beacon Training starting with Code 1 Parallel World DayTripper excursions
Use with the BP Meditation Inductions
Enhance your current meditation practice
Cleanser / Charger
Use the SuperBeacon™ as directed by Higher Guidance.
SuperBeacon™
Price: $
2,250

.00
Price: $
2,250

.00

The Portable has the same price, functions, and capabilities as The SuperBeacon. One is great for the desktop and the other is "Portable."

For more information on The Portable SuperBeacon click here.
Add-On's
Inductions
Recommended Accessories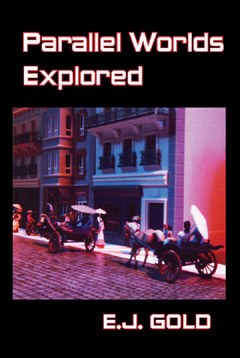 This book contains a series of notes from the work bench of world famous artist / inventor E.J. Gold. It begins with his discovery of the Spirit Radio. This device, which uses modifed crystal radio technology to contact spirits, is the first step in the realm of the Beta-Blocker, which produces a special spiritual state of intuition, creativity and deep meditation.
This is the training manual for advanced Beacon™ work. According to the Intro, "Without Beacon Work, none of the events in Parallel World Day-Tripping will have any application. "With the Beacon Work at your back, you are now able to actually apply theese basic principles learned in the induction state to the experiences that are in store for you."
Medical Disclaimer
The Crystal Quantum Radio. devices, Beacon™ and SuperBeacon™ are not intended for the prevention, diagnosis or treatment of any disease. It is strictly an Alpha-Theta focusing reinforcement, meditation-assisting aid for spiritual astral travel and expansion of consciousness into the realm of Spirit. No voltage of any kind is delivered to the body through the use of this device. Psychic sensitives are advised to proceed slowly as the spiritual effect may be surprisingly potent.